I received a complimentary copy of The Perfect Portion Cookbook from the publisher, Partners in Publishing, for this review. All opinions are my own.
First of all, did you know Anson Williams is 65? That gave me pause because I grew up watching Anson Williams as "Potsie" every week on the 1970's sitcom, Happy Days. Our family spent many evenings around the television watching and enjoying every wholesome episode. Given all the problems we have in this world today, the late 50's (which is when the show took place), were truly happy days! But, that's a subject for another post.
Written by Anson Williams, Bob Warden and Mona Dolgov, The Perfect Portion Cookbook is inspired by Anson Williams' own challenge to remain healthy and fit at the age of 65. (Lookin' good, Anson!) Bob Warden is a New York Times best-selling cookbook author and Mona Dolgov is a top nutritionist. They teamed up to develop the new calorie counting concept found in this book.
The Perfect Portion Cookbook is based on a 100-calorie counting system and it's all about portion control. The book does not advocate eating 100-calorie meals or even that each item on your plate should be only 100 calories. It's a way for the user to visualize and measure meals in 100 calorie portions.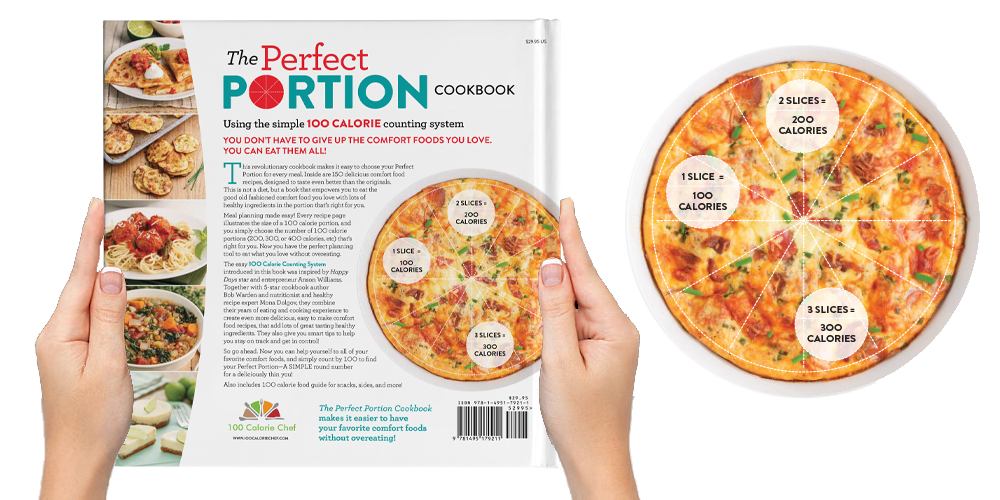 The cookbook has recipes for 150 comfort foods (including breakfast and dessert) everyone loves made with real ingredients: Macaroni and cheese made with real cheddar cheese, mashed potatoes made with real butter and sour cream, lasagna, and (be still my heart) shrimp and grits! Because all the recipes are based on comfort food classics, they all look great and there aren't any complicated techniques.
Here's an example using one of my favorite comfort foods–shrimp and grits. The recipe in the book makes four dinner-sized portions of 1 cup grits and eight shrimp. A 100-calorie portion is 1/4 cup grits with two shrimp. Okay, not exactly realistic for a dinner-sized portion, however, now you know what a 100-calorie portion is and you can choose a 200-calorie portion (1/2 cup grits plus four shrimp), a 300-calorie portion (3/4 cup grits plus six shrimp) or 400-calorie portion (1 cup grits and eight shrimp).
So, if you splurge on the shrimp and grits, you will probably want to cut back on something else. If you cut back on the shrimp and grits, you can splurge on something else.
Pretty cool, huh?
I LOVE that this cookbook breaks real food down into portions. There are simply too many crazy diets out there promising to be your one holy solution. In my personal chef career, I've cooked a lot of crazy diets that were never successful in the long run. This is a great cookbook for anyone struggling to achieve balance in their lives after trying one crazy diet after another. It's so much better to eat the food you love–just not too much!
For more information on The Perfect Portion Cookbook, visit The Perfect Portion.
Thumbs up on this one!