Thank you Wild Selections® for sponsoring this post. For a more sustainable meal, be sure to check out Wild Selections® premium seafood — it's always healthy, always Marine Stewardship Council certified, and always delicious!
Tuna Kimchi Cakes with Soy Ginger Dipping Sauce are crispy, delicious and packed with flavor! Made with Wild Selections® Solid White Albacore Tuna, it's tuna you can feel good about eating.
Simply click on the image below to shop for this beautiful and sustainable product from the sea!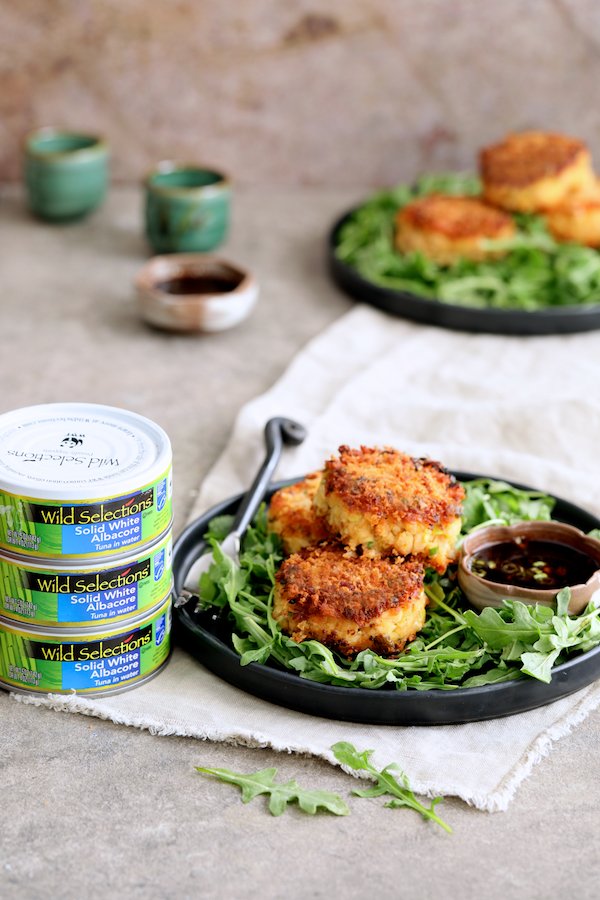 If you're a tuna fan like I am, you're going to love what I have to share!
I care deeply about where the fish and seafood I consume comes from and how it's harvested so I'm excited to share Wild Selections with you!
Wild Selections is the only brand of tuna that truly cares about sustainability and they act on it. They source tuna from ocean areas certified sustainable according to the Marine Stewardship Council (MSC) Standard. For the past 20 years, the MSC has been the world's leading certification program for wild-caught, sustainable seafood.
The MSC assessment and certification of ocean areas ensures the stock of fish harvested from those areas is healthy, well-managed and plentiful. That's definitely the type of fish I prefer to eat!
Wild Selections products contain simple ingredients, are non-GMO Project Verified and are traceable to the ocean area where caught.
Best of all, Wild Selections pays it forward. They donate 13 cents from the sale of each can to support the World Wildlife Fund's efforts to protect marine life and expand sustainable fishing practices. By the end of this year, they'll have contributed approximately $1 million which will help protect our oceans for future generations.
Wild Selections is tuna you can feel good about eating! And here's a delicious way to enjoy this exceptional tuna: Korean-inspired Tuna Kimchi Cakes with Soy Ginger Dipping Sauce.
I used Wild Selections Solid White Albacore Tuna in Water for these Tuna Kimchi Cakes. Although the tuna is packed in water, there's actually very little of it so you don't need to drain it for this recipe. I used panko breadcrumbs (which are dry) therefore they require moisture which will help hold the tuna cakes together. To eliminate waste and not have to use another ingredient, I used the small amount of water in each can as moisture for the breadcrumbs.
When making these cakes, combine all the other ingredients first, then add the tuna. Adding the tuna last ensures everything will be evenly distributed.
Because I make so many fish cakes, I've found forming each one by hand tedious and the results are often uneven. For even-sized cakes and to expedite the process, I use a 1/3-cup measuring cup. I simply pack the fish mixture into the measuring cup about three-quarters of the way then invert it onto a baking sheet. If there's mixture left over, I simply add it in even amounts to all the other fish cakes.
It's a good idea to chill the cakes for an hour or two before frying. If you are in a hurry, place them in the freezer for 30 minutes or so. Chilling helps them "set up" so they'll be easier to fry.
While the fish cakes are chilling, mix up the soy – ginger dipping sauce.
Coat the tuna cakes with panko breadcrumbs before frying. The panko creates a lovely, crispy exterior.
Heat the oil to where it's shimmering then add a pinch or two of the panko breadcrumbs. If the panko browns quickly, the oil is ready.
When nicely browned on both sides, place on a cooling rack to drain. You never want to put fried food on paper towels because the bottom will get soggy. Placing the fried tuna kimchi cakes on a cooling rack to drain rather on paper towels ensures the bottom will stay nice and crispy.
The result is a golden, crispy exterior with that delicious, solid white albacore tuna interior!
If desired, serve the Tuna Kimchi Cakes over peppery arugula for a lovely, light and elegant meal!
Get more information at the Wild Selections website.
Don't forget! Click on the image at the top to buy Wild Selections! You'll be glad you did!
I was selected for this opportunity as a member of CLEVER and the content and opinions expressed here are all my own.
Yield: 4
Tuna Kimchi Cakes with Soy Ginger Dipping Sauce
Tuna Kimchi Cakes with Soy Ginger Dipping Sauce are crispy, delicious and full of flavor!
Additional Time
30 minutes
Ingredients
TUNA CAKES
3/4 cup cabbage kimchi, drained and chopped
1 bunch scallions, white and light green parts only, finely chopped
1 tablespoon minced ginger
1 large egg, beaten
1/2 cup panko  (regular or gluten-free), plus more for coating cakes
3 (5-ounce) cans Wild Selections Solid White Albacore Tuna in Water, undrained
3/4 cup canola, corn or vegetable oil, for frying
Arugula, for serving  (optional)
SOY - GINGER DIPPING SAUCE
1/2 cup soy sauce or tamari
2 tablespoons rice vinegar
1 tablespoon gochujang
1 teaspoon minced ginger
2 cloves garlic, minced
Instructions
TUNA CAKES: Combine first 5 ingredients in a bowl and stir to combine. Add the tuna along with the water that's in the can and stir, flaking the tuna as you go.
Using a 1/3-cup measuring cup, pack the tuna mixture into the measuring cup approximately 3/4 of the way. Invert onto a baking sheet.
Chill for 30 minutes in the freezer or 2 hours in the refrigerator.
Heat oil in a nonstick skillet or saute pan over medium-high heat until shimmering. Sprinkle each tuna cake with a little panko, then carefully place in the hot oil. Brown 2-3 minutes or until golden, top with panko again, then carefully flip. Brown the second side for 2-3 minutes or until golden. Transfer to a cooling rack set over aluminum foil or on a baking sheet. Repeat with remaining cakes.
Serve over arugula if desired.
SOY - GINGER DIPPING SAUCE: Combine all ingredients in a small bowl and whisk to combine.
Notes
FREEZER-FRIENDLY:  Store in an air-tight container for up to 3 months.  To reheat, place frozen cakes on a baking sheet.  Preheat oven to 350 degrees and heat for 22 to 25 minutes or until heated through.
Nutrition Information:
Yield:
4
Serving Size:
1
Amount Per Serving:
Calories:

424
Total Fat:

14g
Saturated Fat:

3g
Trans Fat:

0g
Unsaturated Fat:

10g
Cholesterol:

116mg
Sodium:

3062mg
Carbohydrates:

40g
Fiber:

4g
Sugar:

15g
Protein:

35g
The nutritional information above is computer-generated and only an estimate. Please do your own research with the products you're using if you have a serious health issue or are following a specific diet.